Summary:
Bluehost has a reputation, especially in WordPress hosting services. Just like 2 million users, I found Bluehost web hosting service fast and effective in delivering performance. The test site I used recorded 99.99% uptime for a span of 30 days. The customer support agents are highly trained here and attentive, usually replying in seconds.
Bluehost comes with a free domain name, daily automated backups, easy to use cPanel, free migration, and 30 days money refund policy.
Pricing is reasonable too. Small blogs and Business sites can be hosted on Bluehost for just $2.95. I found the Bluehost Choice plus plan more valuable in terms of money & features. The basic plan is not worth it, as it does not offer a daily automated backup facility.
Are you looking for an honest Bluehost review in 2023? Want to know whether Bluehost is worth your money? You're in the right place.
Bluehost is hands down one of the most popular web hosts trusted by over 2 million users across the globe. I have been using it for more than 10 years on a few of my blogs.
So, in this post, I will be covering everything about Bluehost, including;
Its performance (speed, uptime, support)
Hosting features
Ease of use
Bluehost pricing
Backups
cPanel Interface
Benefits, and drawbacks of using Bluehost
And more…
After going through this review, you will be able to make a wise decision on Bluehost.
Without much ado, let's dive into the honest review of Bluehost.
Quick Note: You can always save your time by reading the short Bluehost review summary mentioned at the starting of this article.
Disclaimer: All our web hosting reviews have been produced after thorough research done by my team. Performance test, speed test, uptime test, etc made on our own websites. The Pros and Cons of web hosting services are a result of my own experience and analysis.
---
We get a commission when you buy a product via our affiliate link at no additional cost.
Honest Bluehost Review: Is It Worth Your Money In 2023?
| Bluehost Offerings (Overview) | Details |
| --- | --- |
| Pricing | Starts from $2.95/mo |
| Free Perks | Free Domain Name, Free CDN, Free SSL, Free Manual Backups |
| Uptime | 99.974% (Last 30 Days) |
| Speed Score | 97 (Desktop), 82 (Mobile) |
| Refund Policy | 30 Days |
| Payment Methods | All International Debit & Credit Cards, PayPal UPI |
| Migration | Free for single WordPress website |
| Bandwidth | Unmetered |
| Customer Support | Live chat, Telephone, Ticket Email System, Knowledge Base |
| Backups & Restoration | Daily automated backups & 1 click restoration via codeguard |
| Hosting Plans | Shared, WordPress, Managed WordPress, VPS, Dedicated, WooCommerce |
| cPanel | Included |
| Domain Registration | Possible |
| TrustPilot Ratings | 4.2/5 |
Tap on the green button anytime to activate the latest Bluehost offer and claim maximum savings.
Bluehost Benefits & Downsides
When my deep study on Bluehost review was done, I left with the amazing benefits Bluehost offers and also with the problems I faced as a Bluehost customer.
Bluehost Pros (Primary Reasons to Choose Bluehost Web Hosting):
1. Free Domain Name
This is another reason I like Bluehost. It does not matter which Bluehost plan you choose, you will get a free domain name (including .com) for a year.
It helps beginners save an extra $15 and lets them avoid the hassles of DNS configuration.
2. 1-Click WordPress Installation
Setting up a WordPress blog and website on Bluehost with a 1-click WordPress installation gives everyone one more reason to go with Bluehost.
3. Free SSL Certificate
Web security is something you can not overlook these days and with Bluehost, you will get a free Let's Encrypt SSL certificate that can be activated within a single click.
4. Free CDN
Along with a free SSL certificate, you will also get the most popular Cloudflare CDN for free.
5. Free Custom Emails
Next, you're allowed to create a min 5 custom email addresses (@yourdomainname) for free.
All these 5 benefits make Bluehost a complete package for every web enthusiast. But that's not all.
6. 24/7 Customer Support
Sit relax as you are backed by 24/7 expert customer support including live chat and phone support.
7. Free WordPress Migration
It allows you to move your WordPress site from any other web host to Bluehost for free without any worries.
8. Industry Leading cPanel
Each Bluehost plan is included with the industry's leading control panel, cPanel which makes managing your website even easier.
9. 30 Days Money Back Policy
With Bluehost, you will also get a 30 day money-back guarantee that allows you to try their services risk-free for 30 days.
10. Everything Unlimited
Except for the Bluehost Basic plan, you're allowed to host unlimited websites with unmetered bandwidth, custom email addresses, and much more.
11. Website Builder
Whether you're looking forward to starting a blog or an online store, Bluehost is certainly a good choice because of its easy drag-and-drop website builder.
Here is what's included in the Bluehost website builder that makes creating stunning business websites easy.
300+ Design Templates
Stock Image Library
Live Editing
Full WordPress Access
Unlimited Image and Content Uploads
Built-in Email Marketing
Trusted Web Hosting
Accept Online Payments (Online Store Plan)
Appointment Booking (Online Store Plan)
24/7 Support
Bluehost Cons:
A few downsides of Bluehost that I don't like:
Bluehost does not offer automatic backups in the basic plan. (Well, that you can overcome by using any WordPress backup plugins like UpdraftPlus, ValutPress, etc.)
Secondly, Bluehost does not offer monthly plans which means you will have to opt for at least a 12 months plan.
Again, if you want to give it a try, you can take advantage of their 30 days money-back guarantee policy which works like a charm. I have tested it.
Who is Bluehost For?
Compiling Bluehost pros and cons, I think beginners should have given it a shot to Bluehost. All the required resources with a high-performance server are available. The technical hurdles won't bother them at all as everything (from wordpress installation to backups) is automated here.
For high-traffic requirement sites or eCommerce sites, Bluehost top-tier performance-oriented plans are available. There won't be any lack of resources. 99.99% uptime ensures smooth web page deliverability across all parts of the world.
---
Sharing the Bluehost Performance Test Results:
Website Performance directly impacts the SEO of webpages and hence website rankings in SERP. Your site must be loaded at lightning-fast speed for delivering a better user experience. For this, you will need a high-performance web host server.
Do Bluehost servers have a capability? Let's find out.
Bluehost Speed Test:
To find out what Bluehost has for you in terms of speed, I measured the real-time speed of a blog hosted on Bluehost for over a year now using the top 3 website performance testing tools: GTMetrix, Pingdom, and Google PageSpeed Insights.
Here is the GTMetrix result:
You can see the GTmetrix report which shows 97% overall performance and below 1.0s loading time which is just amazing.
Here is the Pingdom Result:
And finally, Here is the Google PageSpeed Results:
Verdict on Bluehost Speed: I never expected good performance results from low end hosting plans. But this is not the case with Bluehost. My site was hosted on the Bluehost most basic plan without a caching plugin installed and surprisingly it passed all the tests and cleared the core web vital metrics as well
Bluehost Uptime:
Bluehost claims to provide 99.9% uptime. Let's see how authentic it is.
I have been also tracking the uptime of my blog hosted on Bluehost with the help of the UptimeRobot tool.
Surprisingly, it was 100%.
You can see in the image above, it's been around 1 and a half months since I started tracking, and there was no downtime recorded.
But this was just a performance proof of one Bluehost hosted site.
What about others?
I took the help of a real uptime tracker by HRANK, a trusted platform that tracks millions of Bluehost websites every day to bring you objective statistics about every hosting provider.
Here is the Bluehost uptime for the last 30 days, 99.978% which is almost 99.9% as claimed by Bluehost itself.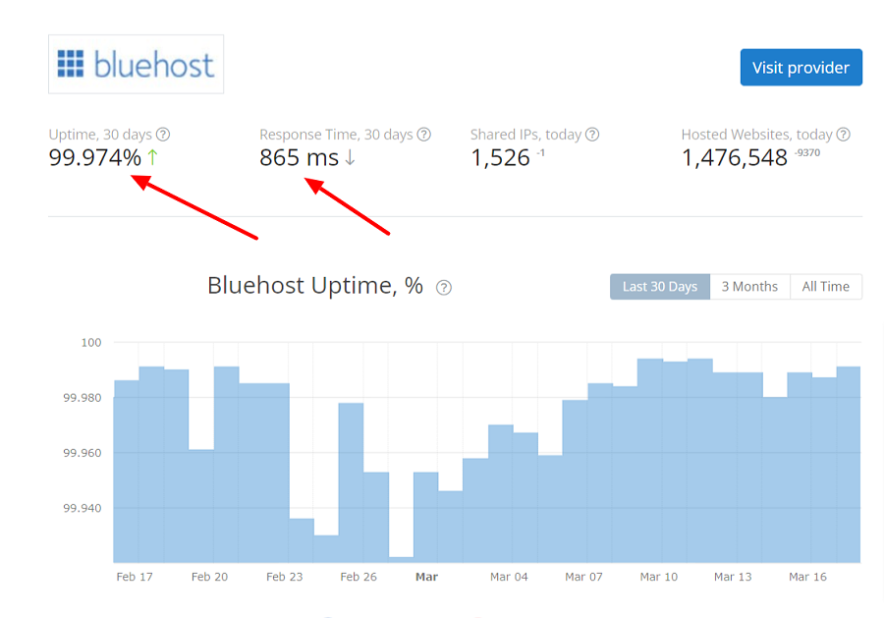 Verdict on Bluehost Uptime: Bluehost offers exactly 99.9% uptime which everyone demands from their web host.
Bluehost Server Response Time:
Did you know Data Center (Server location) directly impacts the server response time? The closer the server is to your audience's IP address, the better the website loading speed they will get.
Unlike other web hosting services, Bluehost never disclosed its server location to users. Yes, they won't allow you to choose it as well during the website configuration process.
So, it's not possible for me to disclose my Bluehost test site server location. But I can guess my server location is somewhere located in the USA as I purchased my hosting from Bluehost.com
Quick Note: Bluehost offers a free Cloudflare CDN integration which means you don't have to worry about server location. Cloudflare CDN ensures your visitors will get your webpage delivered from the closest data center possible.
To check server response time, I have used this amazing tool called BitCatcha. This tool basically sends automated traffic to the site from various locations which helps us to determine how well the Bluehost site performed in all scenarios.
Verdict on Bluehost Server Response Time: Bluehost servers are highly optimized and delivered a webpage at a lightning fast speed to all major parts of the world.
---
Reviewing Bluehost Hosting Types & Pricing Plans: Which Hosting Plan is More Suitable For You?
Bluehost offers exciting cheap plans with a lot of freebies included. Let's explore more…
As of 2023, Bluehost offers a wide range of web hosting services including Shared Hosting, WordPress shared hosting, Managed WordPress Hosting, Dedicated hosting, VPS hosting, and WooCommerce hosting.
Bluehost Hosting Types & Pricing at a Glance:
| Bluehost Hosting Types | Who Should Prefer & When | Pricing |
| --- | --- | --- |
| Shared | Bluehost shared plans should be considered when budget is a problem and you are happy to share server resources among multiple sites. Perfect for small business sites, blogs, etc. | Starts from $2.95/mo |
| WordPress Shared | Suitable to WordPress users. Here, WordPress will be pre-installed and rest things will be the same as you see in shared plans. | Starts from $2.95/mo |
| Managed WordPress | The advantage of being "Managed" is included in WordPress plans. Highly optimized & performance oriented plans where the WordPress backend related optimization is done by the Bluehost engineers. | Starts from $19.95/mo |
| VPS Web Hosting | Good platform to host web applications. Dedicated CPU resources & root access is given. | Starts from $19.99/mo |
| Dedicated Server Hosting | Pick these Bluehost plans when monthly traffic exceeds 100k and high performance is the priority. One website would be allotted a whole server resource. | Starts from $79.99/mo |
| WooCommerce Hosting | WooCommerce is included by default and other essential features for eCommerce sites will be given. Hence 100% suitable for WordPress eCommerce sites. | Starts from $9.95/mo |
Quick note: All the prices mentioned above are exclusive for BloggersPassion readers and you don't require any Bluehost Coupon Code to get Bluehost plans at these prices. To apply the latest coupon, Just tap on the "green button" you will be seeing while scrolling this page.
---
Bluehost Shared Hosting Plans Breakdown:

Out of all available plans, Bluehost Shared hosting plans are widely picked by users because of the pocket friendliness, high level performance, and freebies included (Free domain, Free CDN, Free SSL).
Quick note: The Performance test I shared in this Bluehost review is conducted on Bluehost shared plans as well. You can always check.
But I must say, pick WordPress shared plans because the advantage of WordPress optimization is included in the same pricing and features.
Anyway, these are the shared hosting plans offerings & features:
Basic $2.95/mo
---
1 Website
10 GB SSD Storage
Unmetered Bandwidth
Free Domain (1st year)
Free SSL
5 Custom Email Accounts
Choice Plus $5.45/mo
---
Unlimited Websites
40 GB SSD Storage
Free Domain (1st Year)
Free SSL
Daily Website Backup
Domain Privacy
Malware Scanning
Unmetered Bandwidth
Unlimited Custom Email Accounts
Free Office 365 – 30 days
Online Store $9.95/mo
---
Unlimited Websites
100 GB SSD Storage
Unmetered Bandwidth
Unlimited Custom Email Accounts
Free Office 365 – 30 days
Free Domain Privacy
Daily Website Backup – 1 year
Domain Privacy
Malware Scanning
Store Analytics
eCommerce Plugins ($450 Worth)
Pro $13.95/mo
---
Unlimited Websites
100 GB SSD Storage
Unmetered Bandwidth
Unlimited Custom Email Accounts
Free Office 365 – 30 days
Free Domain Privacy
Daily Website Backup
Free Dedicated IP
Optimized Resources
Bluehost offers 4 Shared plans: Basic, Choice Plus, Online Store and Pro plans
Basic: This is the entry-level plan by Bluehost that has everything for your first site. For this plan, you will have to spend a minimum of $2.95 per month.
Choice Plus: This is the most popular plan by Bluehost with added privacy and security features. The best thing about this plan is that it will cost you the same as the Plus plan i.e $5.45 per month.
Online Store: This is the recently released plan by Bluehost specially for eCommerce store based sites. You will have to pay $9.95/mo for this plan.
Pro: This is the most advanced plan by Bluehost best suited by growth seekers. Pro plan will facilitate you with more power with Optimized CPU Resources.But for this plan, you will have to pay $13.95 per month which makes it quite expensive.
Verdict on Bluehost Plans & Pricing: I feel, Except for the Pro plan, Bluehost shared hosting plans are value for money and you can choose any plan based on your needs. The only downside I felt is the lack of daily automated backup feature in "Bluehost Basic Plan". If you are having an eCommerce store, then choosing a "Online Store" plan gives you extra beneficial features such as Store Analytics, eCommerce plugins, etc.
Bluehost VPS Hosting Plans:
| Plan | Storage | Bandwidth | IP Addresses | Price |
| --- | --- | --- | --- | --- |
| Standard | 30 GB SSD | 1 TB | 1 IP Address | $19.99 |
| Enhanced | 60 GB SSD | 2 TB | 2 IP Addresses | $29.99 |
| Ultimate | 120 GB SSD | 3 TB | 2 IP Addresses | $59.99 |
Bluehost Dedicated Hosting Plans
| Plan | Storage | RAM | Bandwidth | IPs | Price |
| --- | --- | --- | --- | --- | --- |
| Standard | 500 GB | 4 GB | 5 TB | 3 | $79.99 |
| Enhanced | 1 TB | 8 GB | 10 TB | 4 | $99.99 |
| Ultimate | 1 TB | 16 GB | 15 TB | 5 | $119.99 |
Bluehost WooCommerce Hosting Plans
| Plan | Products | Bandwidth | Sites | Price |
| --- | --- | --- | --- | --- |
| Online Store | Unlimited | Unmetered | Multiple | $9.95 |
| Online Store + Marketplace | Unlimited | Unmetered | Multiple | $12.95 |
---
Words on Backups & Restoration
Bluehost has received a lot of complaints about the absence of daily backups. But gladly now it offers a daily automated backup facility in all of its plans except Basic.
I just checked, Backup & Restoration process in Bluehost is extremely easy and hassle-free.
If you want to take manual free backups, you can do it easily either by FTP or through Bluehost cPanel.
However, for automated daily backups, you will find a "CodeGuard" add-on whose primary job is to monitor your site daily and make incremental backups. This add-on comes with the extra charges ($35-$239/year).
---
Words on cPanel Interface & Onboarding: Is Bluehost Easy to Use?
I should say, Bluehost cPanel and the onboarding process has been improved a lot over these past years. Compared to the old traditional cPanel, now you will see a modern customizable cPanel with an amazing WordPress website builder and so many built-in features.
Bluehost comes with a custom cPanel that enhances the usability for beginners in a great way.
Plus just after you purchased their plans, you will be welcomed by the setup wizard. Especially for beginners, Bluehost has put up a website builder option.
The onboarding process can be completed in 5 minutes. All you have to answer basic questions like website goals, taglines, etc, and then after choosing a theme from the Marketplace, WordPress will automatically be installed on your Bluehost site.
And this is what Bluehost beginners cPanel look like:
Surprised to not find a traditional cPanel interface? Yes, this is the Bluehost new-era cPanel dashboard where you will find all essential options like backups, themes, installed plugins, etc at your fingertip.
So in a nutshell, if someone asks me "Is Bluehost Easy to Use?" I would definitely answer: Absolutely Yes. And that is the reason (apart from its performance) I love and recommend Bluehost to every newcomer in the blogging industry.
---
How is the Bluehost Customer Support Quality?
Customer support is something that also matters a lot for everyone, beginners and even web geeks. You can even communicate with them in your local language as well.
And Bluehost offers 24/7 support and guidance experts to help newbies, pros, and in-betweens build, grow, and manage your WordPress site effectively.
Call 888-401-4678
Instant Live Chat (for both new and existing customers)
Vast knowledge base full of articles, guides, how-tos
Here is our last conversation with the Bluehost support team.
I tried to contact them as a new user and got an immediate response within a second.
As you can see above, I initiated the chat at 9:47 pm and only got an instant reply at 9:47 pm.
Small Verdict on Bluehost Support: Bluehost's 24/7 phone support, instant live chat support, and vast knowledge base will leave you happy every time.
---
Bluehost Security: Is it a Safe Web Hosting Service?
Website security should be top-notch. And web hosting plays a major role in securing a website. Bluehost's main reason for sustainability over the last 10 years is its secure servers.
Not only does Bluehost security help your site from hackers, but also protect your site data from unwanted crash or site failure issues. I found almost all security measures available inside Bluehost work on an automation basis – meaning beginners don't have to worry about configuration and all.
Here is the list of Bluehost Security Features which safeguard your site 24*7:
Resource Protection
CodeGuard Automated Backups
Website Firewall
24*7 Malware Scanning
24*7 Network Monitoring
Domain Privacy
Spam Protection
Hotlink Protection
SiteLock
---
Bluehost Migration Service: Free or Not?
Bluehost offers an absolutely free migration service if your site is running on WordPress CMS. If you want to migrate 5 or more websites then Migration charges might be applied.
I found the Bluehost migration service extremely easy. All you have to do is to install the Bluehost free migration plugin on your WordPress dashboard. From this point, Bluehost technical team is available to guide and migrate your website on your behalf.
For any migration assistance: Contact the Bluehost team either via phone at 888-401-4678 or through live chat. Or you can watch this YouTube tutorial published by Bluehost team.
---
Bluehost Reviews 2023: Other Users Opinion About Bluehost
Want to find out the Bluehost reviews on major user review platforms? This section is for you.
On Trustpilot;
As you can see above, on Trustpilot, Bluehost got an amazing customer satisfaction rating of 4.2 out of 5 stars from over 4300 users.
On Capterra;
As you can see above, on Capterra, Bluehost got an excellent rating of 4.2 out of 5 stars.
I have read a lot of Bluehost reviews on the internet, If I have to summarize all of them then this is what I found:
Plus Points:
Users are highly impressed with the Bluehost performance & security they get at affordable pricing.
Not a single person feels difficulty in operating the Bluehost cPanel or completing the onboarding process.
Users are die hard fans of Bluehost customer support. They are literally saying that you can contact Bluehost even in Midnight, they will respond in seconds for sure.
Negative Points:
Plenty of users have an issue with their confusion about what features or add-ons they should install or not. Bluehost has tons of tools in its marketplace and because of extra charges, users won't feel motivated to buy them.
---
Bluehost Alternatives: How Bluehost Compared with Other Web Hosting Services
So many web hosting services are available in the market. If you still feel Bluehost is not for you, here are the two best Bluehost alternatives you can go for;
1. Hostinger
If you're really tight on budget then you can choose Hostinger which starts from only $1.79 per month.
We are using Hostinger on one of our side blogs and we genuinely found it very cost-effective.
2. A2 Hosting
If budget is not an issue then you can go for A2 hosting having Turbo Servers featuring up to 20X faster page loads compared to competing web hosting services.
---
FAQs About Bluehost Web Hosting
Is Bluehost good?
Yes, if we consider Bluehost features, speed, uptime, and support for the price of just $2.95/mo, Bluehost does its job perfectly.
Is Bluehost easy to use?
Absolutely! Automatic WordPress installation, 1-click SSL, CDN activation, and easy custom email creation, all these features make Bluehost an extremely easy-to-use web host for everyone.
What are the Bluehost hosting plans?
There are four plans for shared hosting, Basic, Choice Plus, Online Store and Pro that will cost you $2.95/mo, $5.45/mo, $9.95/mo, and $13.95/mo respectively.
Which Bluehost plan is best for beginners?
For those who want to start with 1 website, the Basic plan is sufficient for them. But if you are looking forward to hosting multiple websites, go for the Choice Plus plan.
Bluehost vs Hostgator which is good?
Bluehost and Hostgator are part of the same Endurance International Group group and offer similar features. But pricing wise, Hostgator plans are cheaper as compared to the Bluehost.
Which is better Bluehost or GoDaddy?
GoDaddy is a renowned name in the domain registrars but if we talk in terms of web hosting services and performance, Bluehost is way better than GoDaddy.
Bluehost vs Dreamhost?
Both Bluehost and Dreamhost are officially recommended by WordPress.org. Still, I highly recommend Bluehost over Dreamhost, trusted by 2 million users.
Is the Bluehost domain free?
Yes, you will get a free domain for one year with every plan you choose at Bluehost.
Is WordPress free with Bluehost?
Yes, Bluehost is known for WordPress hosting. With Bluehost, 1-click WordPress installation is available for free.
Can I pay Bluehost monthly?
No, you will have to subscribe for at least a 12 months plan.
Is Bluehost worth the price?
Yes, Bluehost is worth every penny as you can get their hosting for as low as $35 a year where you'll get excellent hosting features like free domain, SSL certificates, unlimited emails, and more.
Is GoDaddy better or Bluehost?
When it comes to web hosting, Bluehost is way better than GoDaddy. GoDaddy often has uptime issues with their hosting servers whereas Bluehost has an incredible 99.9% uptime.
What are the pros and cons of using Bluehost?
The pros of using Bluehost include: extremely cheap hosting plans starting at just $2.95/month, free domain, SSD storage, free custom themes, 24/7 support, and more.
The cons of Bluehost are: limited storage space and you need to pay extra for a few add-ons such as backups, website migration, etc.